Ramsgate village, with 2 swimming beaches, are home to a wonderful variety of holiday accommodation, restaurants and recreational facilities to suit your holiday needs. Light surf, soft sand and great lifeguard facilities make these two the top South Coast beaches. Enjoy Whales and Dolphin watching, beautiful fauna and flora, whale viewing deck and walking trails along the beaches.
The sunny Kwazulu-Natal South Coast filled with colour and vibrancy, and set against a tropical green backdrop of estuaries, forests and rolling hillsides, is one of South Africa's favourite holiday destinations!
"Ramsgate, this Is the Paradise of the KZN South Coast"…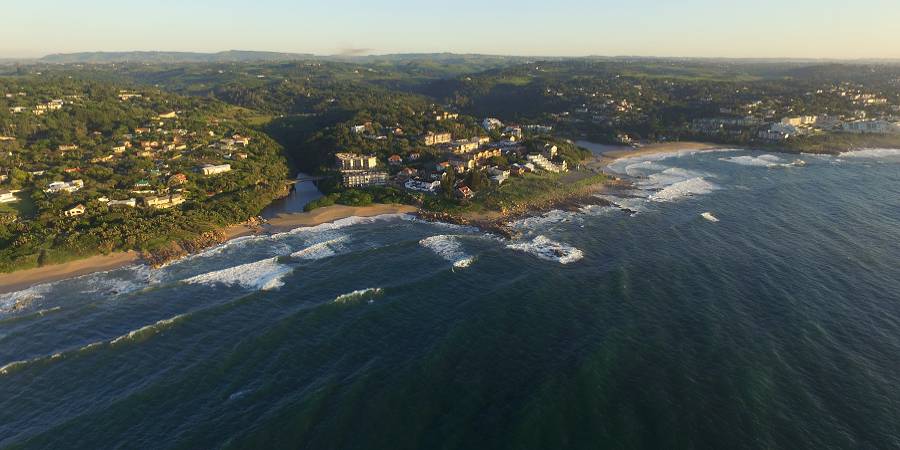 Ramsgate Beach with Blue Flag status offers a quiet family beach for a pleasant day out. The village developed around the lagoon. Protected by off-shore nets and lifesavers in attendance seven days a week, beachgoers to Ramsgate are also protected when the wind blows from the north. The main beach features a tidal pool known as the Noel Quarry Pool, a tranquil, reedy lagoon, changerooms, on-beach parking and a shady, grassed, sheltered area equipped with braai and picnic facilities. There are pleasure pedal boats and recreational activities on offer in the estuary. Restaurants on the beach and there is a whale-watching deck opposite the beach. Blue Flag, swimming, ablution facilities, life guarded, shark netted, fishing, surfing, snorkelling, tidal pool, lagoon, beach sport, picnic area, kiosk/restaurant, parking. Read more about Ramsgate Beach
Ramsgate Lagoon. Canoe or paddle boat for hire, take the whole family and explore the Bilanhlolo River and Ramsgate Nature. Read more about Ramsgate Lagoon
Ski Boat Bay is a swimming beach located within a small bay in Ramsgate South with Lifeguards and protected by off-shore nets. Ski boat & Jetski launch facilities and a small kiosk open during school holidays. Boat Launch, swimming, ablution facilities, life guarded, shark netted, fishing, surfing, snorkelling, beach sport, kiosk in season, large parking area for vehicles and boats. Read more about Ramsgate Ski-Boat Bay
History of Ramsgate Village:
Paul Buck, described as a painter, violin maker, writer and sailor is acclaimed as being Ramsgate's first settler, but, some 25 years before he arrived in the 1920's a sea captain by the name of Cromton had already discovered the beauty of the area. Crompton, having "swallowed the anchor" as the saying goes, had established a trading store a short distance inland in an area he called Fascadale, after the ship of the same name that had been wrecked southwards of the Imbizane river at Southbroom in 1895. Buck made his home on the southern banks of the Blue Lagoon and although he obviously favoured the lifestyle of a recluse his hospitality afforded any passing traveller made him a legend in these parts.
Ramsgate Accommodation, Self Catering, BnB + Camping
Beachcomber Bay
75 Marine Drive, Ramsgate North
Phone: 039 317 4473
BillsBest Boathouse B&B
Cnr Marine Dr & Penshurst, Ramsgate
Phone: 039 314 4837
Claridge Heights 105
Cnr Marine Drive & Clarence Str, Ramsgate
Phone: 083 557 3647
Fairhills Caravan Park & Camping
Fascadale Road, Ramsgate
Phone: 071 228 1814
Rock Inn
835 Tegwan Road, Ramsgate
Phone: 039 314 4837
The Beach House
847 Tegwan Road, Ramsgate
Phone: 039 314 4837
Wailana Beach Lodge
436 Ashmead Drive Ramsgate
Phone: 039 314 4606
Whaleback Cottage
994 Milton Road, Ramsgate
Phone: 039 314 4837
Surf and Sand
Lot 199, Marine drive, Ramsgate North
Phone 082 442 5539
African Sunrise Beach House
473 Melba Road; Ramsgate
Phone 079 898 6281
Blue Door Self Catering
1414 Shirley Avenue, Ramsgate
Phone 083 447 9261
Dunkirk Bnb
687 Dunkirk Rd, Ramsgate
Phone 082 895 7089
Gecko Moon Bnb
1291 Linton Rd, Ramsgate
Phone 082 602 1640
Ilanga Ntaba Guest House
Oribi Road, Ramsgate
Phone 039 314 9070
Ocean Gaze Bnb
Lot 854 Tunny Lane, Ramsgate
Phone 039 314 9611
The Shores Self Catering Apartments
Lot 2117 Shore Road, Ramsgate
Phone 078 887 2882
Ramsgate Adventure, Adrenaline + Sport
The Blue Cool Surf Shop
Ramsgate Boulevard Shopping Centre,
Phone: 039 317 3604
Green Valley Golf Driving Range
Next to South City College, Ramsgate
Phone: 039 314 9022
Raggies Fishing Tackle
Bond Street, Ramsgate
Phone: 084 291 5967
Saiki Dojo Sa Jka Karate
Bond Street, Ramsgate
Phone: 076 576 6087
Sunrise Bait Tackle Superette
Marine Drive 204, Ramsgate
Phone: 081 306 4299
Ramsgate Out + About
Butterfly Valley Butterfly Farm
46 Fascadale Road, Ramsgate
Phone: 072 235 3688
Antiques Collectables
Marine Drive, Ramsgate
Phone: 039 314 4298
Artists Gallery
Unit 1, Ground Floor Casa Blanca Building, Ramsgate
Phone: 082 818 4552
Baobab Galerie
Lifestyle Village, 303 Marine Drive, Ramsgate
Phone: 079 581 0116
Gaze Gallery
Marine Drive, Ramsgate
Phone: 039 314 4011
Natalies Gift Shop Jewellers
Marine Drive 64, Ramsgate North
Phone: 039 312 0341
S'khumba Crafts
Ramsgate
Phone: 039 316 8212
Tinkers Den
Marine Drive 72, Ramsgate,
Phone: 039 312 0180
Ramsgate Restaurants
Anns Kitchen Genuine Indian Cuisine
Marine Drive, Ramsgate
Phone: 078 942 2964
At Home Pizzas & Movies
632 Bond Street, Ramsgate
Phone: 071 520 7345
Blue Lagoon Restaurant
Ramsgate Beachfront, Ramsgate
Phone: 039 314 4149
Chefs On Marine
Lifestyle Centre, Marine Drive, Ramsgate
Phone: 082 493 6687
Crayfish Inn
Cnr Marine Drive & Clarence Street, Ramsgate
Curry Den Take Away
Bond street, Ramsgate
Phone: 073 444 7133
Flavours Restaurant
2450 Marine Drive, Ramsgate
Phone: 039 314 4370
Just So Chinese
Marine Drive, Ramsgate North
Phone: 039 312 2165
La Capannina
206 Marine Drive, Ramsgate North
Phone: 039 317 1078
Ocean Fish Take Away
Marine Drive, Ramsgate
Phone: 082 572 7639
Pistols Saloon
Old Main Road, Ramsgate
Phone: 039 316 8463
Pop Eyes Pub & Grub
Marine Drive, Ramsgate
Phone: 039 314 9565
The Burlesque Cafe
957 Marine Drive, Ramsgate
Phone: 039 314 9886
The Lobster Pot
Lot 955 Marine Drive, Ramsgate
Phone: 039 314 9809
The Tipsy Turtle
Cnr Marine Dr & Henry Rd, Ramsgate
Phone: 082 785 0825
The Waffle House
Lot 839, Marine Drive, Ramsgate
Phone: 039 314 9424
Tom, Dick & Harry
Ramsgate Boulevard Shopping Centre
Phone: 039 314 4510
EMERGENCIES:
Dr Pierre Du Plessis
Ramsgate Boulevard Shopping Centre
Phone: 039 314 9406
Pharmacy Spar Ramsgate
Ramsgate Boulevard Shopping Centre
Phone: 039 314 9758
Ramsgate CPF
Marine Drive, Ramsgate
Phone: 073 486 8683
SHOPPING & SERVICES:
Bp Garage
Marine Drive 196, Ramsgate
Phone: 039 314 4102
The Blue Cool Surf Shop
Ramsgate Boulevard Shopping Centre
Contact 039 3149 777
Artisan Breads
Bond Street, Ramsgate
Phone: 039 314 4263
Boulevard Stationers
Ramsgate Boulevard Shopping Centre
Phone: 039 314 9996
Buco Hardware Store
Bond Street, Ramsgate
Phone: 039 314 9775
Engel & Volkers
Ramsgate Boulevard Shopping Centre
Phone: 039 314 4642
Froggie Shoes
Marine Drive, Ramsgate,
Phone: 039 314 9040
Gary's Auto Clinic
Ray Road 202, Ramsgate North
Phone: 039 312 2867
Gradwell Letting
Ray Road 203, Ramsgate North
Phone: 039 312 0333
Gypsey World Caravans
Bond Street, Ramsgate
Phone: 039 314 9354
Hair Studio
Marine Drive, Ramsgate
Phone: 039 314 9669
House of Carol
Lifestyle Village, 303 Marine Drive, Ramsgate,
Phone: 079 663 8178
Impact Printers
Bond Street, Ramsgate
Phone: 039 314 4263
Pam Golding
Bond Street, Ramsgate
Phone: 039 940 5102
PC Magic
Marine Drive, Ramsgate
Phone: 039 314 4359
GMS Decor Design & More
Bond Street, Ramsgate
Phone: 083 267 5373
Ramsgate Laundromat
Marine Drive, Ramsgate,
Phone: 083 451 1577
Total Garage
Marine Drive & End St, Ramsgate
Phone: 039 314 4650
Southgate Ceilings & Partitioning
Regent Road, Ramsgate
Phone: 039 314 9021
Spar & Tops Liquor Store
Ramsgate Boulevard Shopping Centre
Phone: 039 314 9757
Suzuki Margate
Bond Street, Ramsgate
Phone: 039 314 9898
The Property Circle
Bond Street, Ramsgate
Phone: 039 314 9390
Two Chubby Ladies
Lifestyle Village, 303 Marine Drive, Ramsgate,
Phone: 082 551 5263
Wakefields
Bond street, Ramsgate,
Phone: 039 314 404